Wiper Blades Replacement Twin Pack (22+22″ | 550+550mm)
$58.90
Description
Replacement Aerodynamic Wiper Blade (Twin Pack)

Why Choose Adwipers?  |  Why Aerodynamic Wipers?
How to change adaptor?  |  How to install wipers to wiper arm?
What size do you need for your car?
Application: Front Screen Wipers
Wiper Sizes: 22″ (550 mm) + 22″ (550 mm)
Adaptors: A, B1, B2, B5, C, E, F, G (included in each pack)
Inclusion: Wiper Blades Twin Pack with 8 adaptors in each pack (Type A is fitted on wiper)
ADWipers replacement wiper blades adopt German wiper tech, Aerodynamic frameless/boneless design in wiper blades manufacturing. Safe driving vision is assured.
Fits 99% of cars on the road, no need to worry compatibility issue with 14 wiper blade adapter types.
Easy to fit them on by yourself, save money and time to visit auto mechanics
Wipers come with tough PVC packing individually. Rubber blades are well protected with a protection sleeve (remove before use)
Easy to purchase online, various payment methods including AfterPay, credit card payment via Paypal and Stripe
Fast shipping, 0-1 business day dispatch.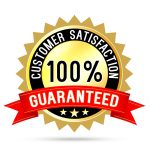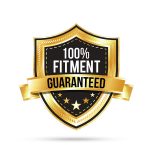 To fit an adaptor:
How to install wiper blade to wiper arm?
Following are illustrations to demonstrate wiper installation on different wiper arm types.
In rear cases, if you cannot identify which one fits your vehicle, please contact us with your car wiper arm clearly showing the connection type (no need to remove wiper), we will identify and let you know the suitable one.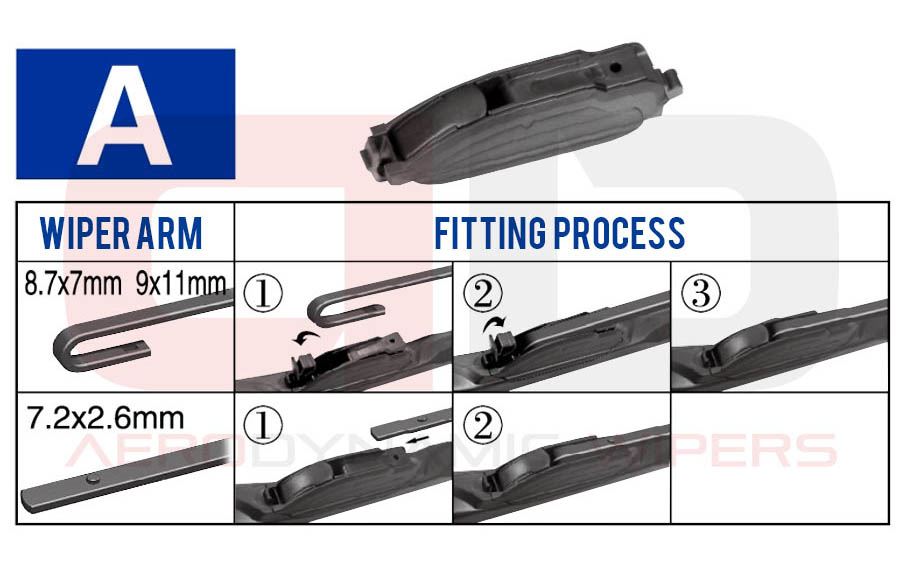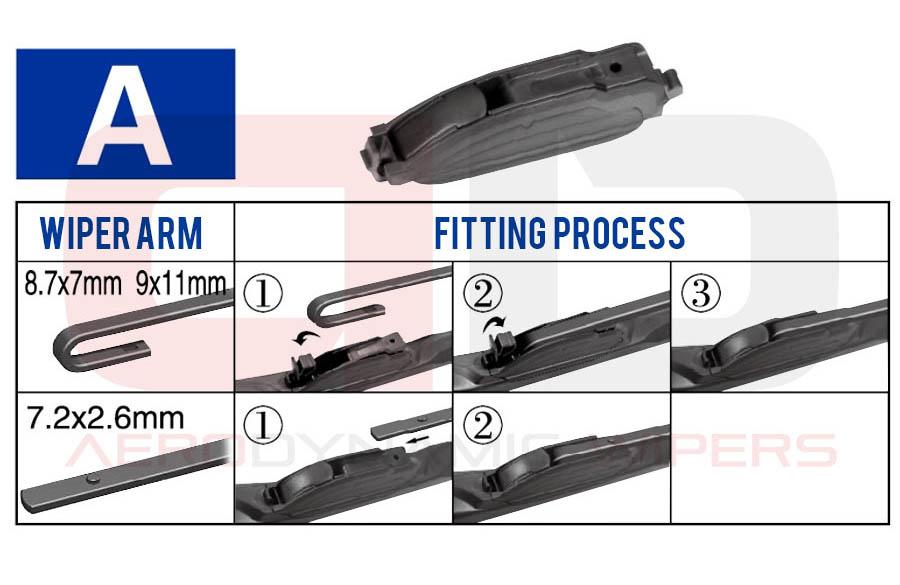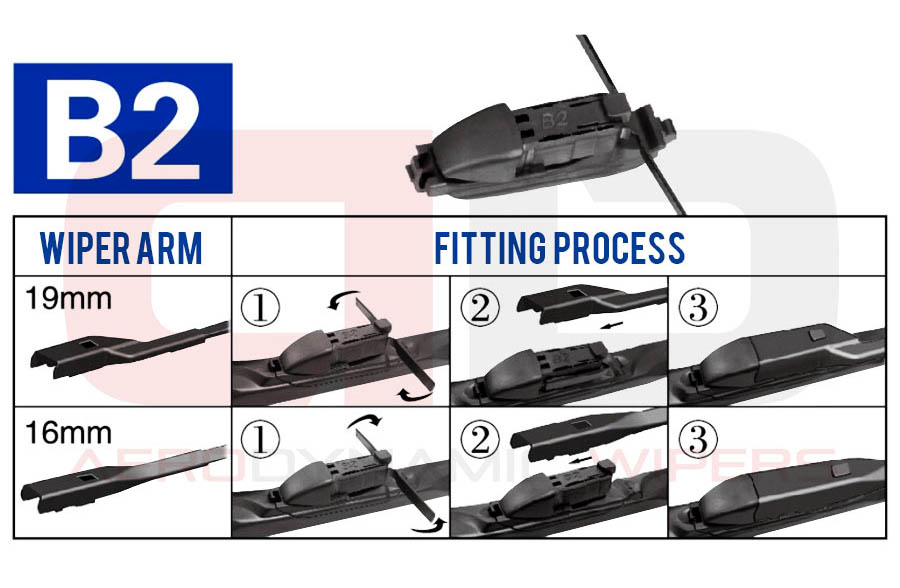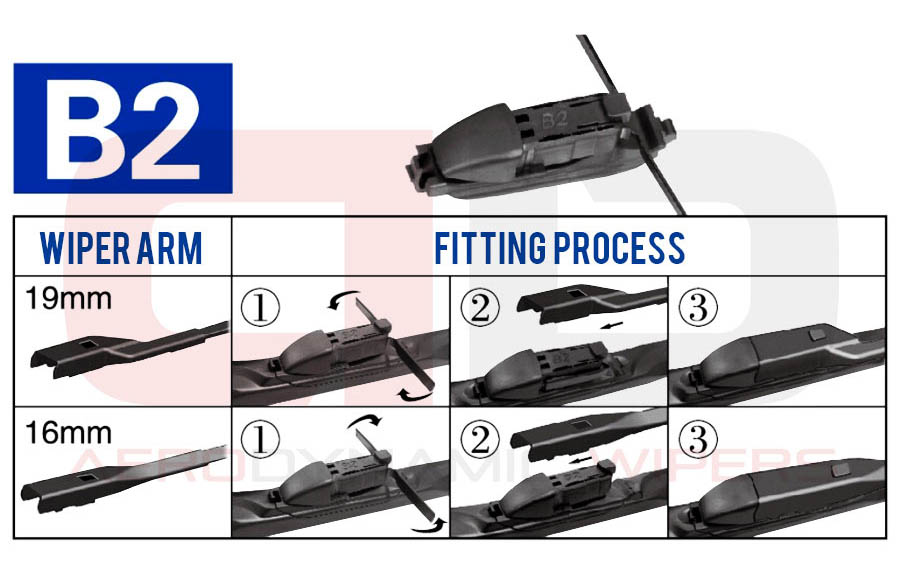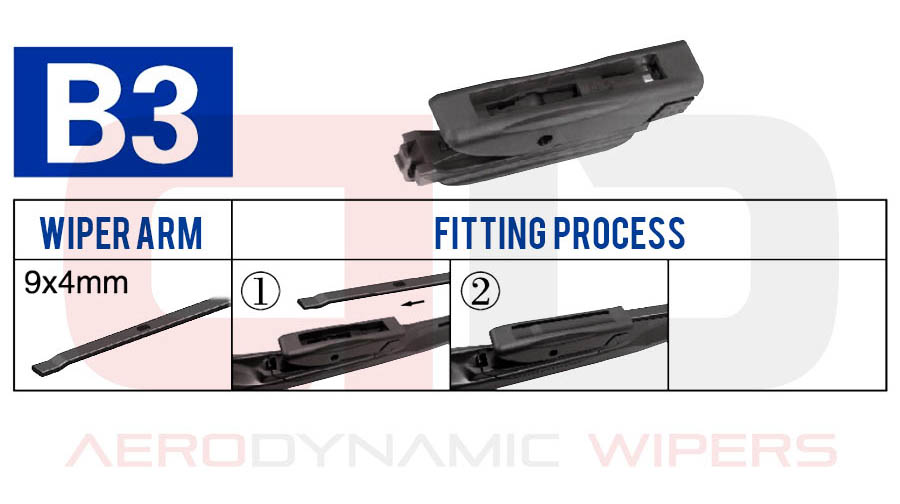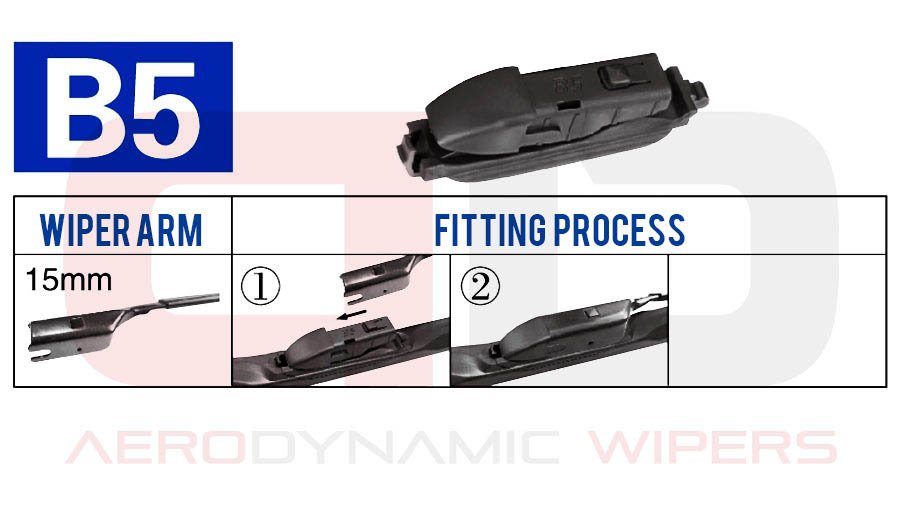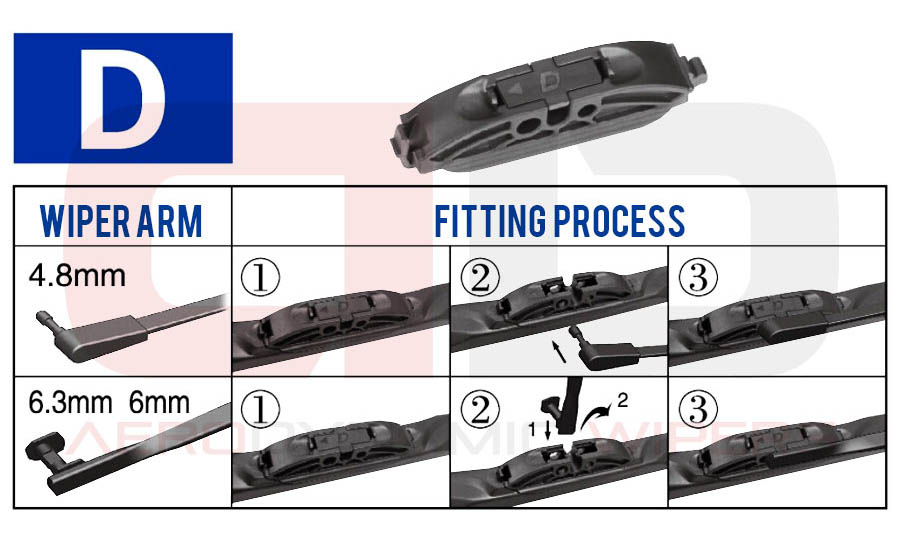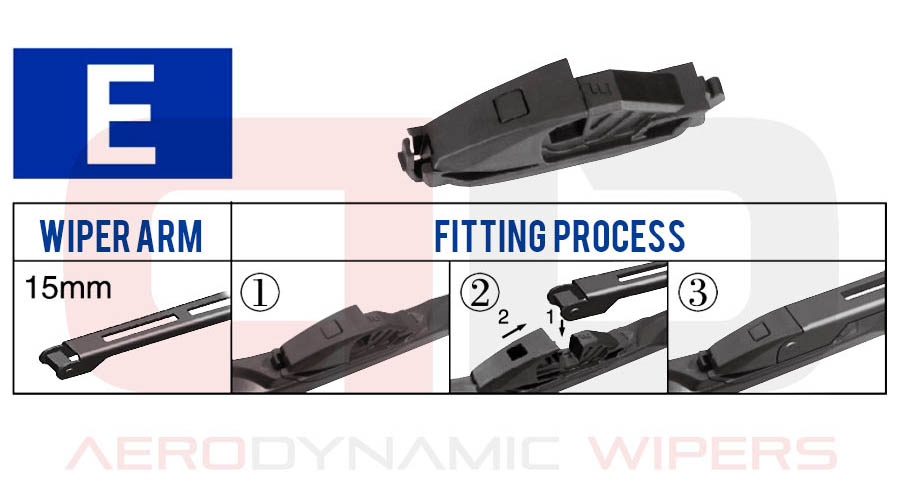 Wiper adaptor mounting base is a symmetric design where you can fit the adaptor in both directions. Thus, when installing wipers, make sure the aerodynamic spoiler is on the upper side as the illustration shown below: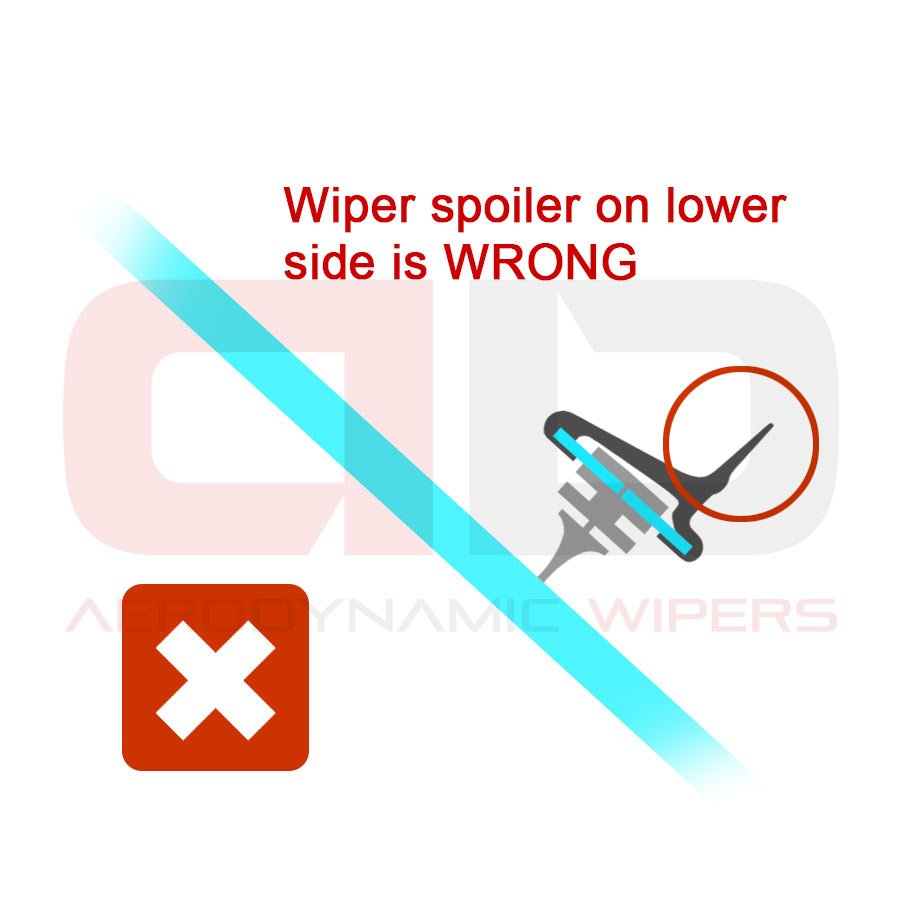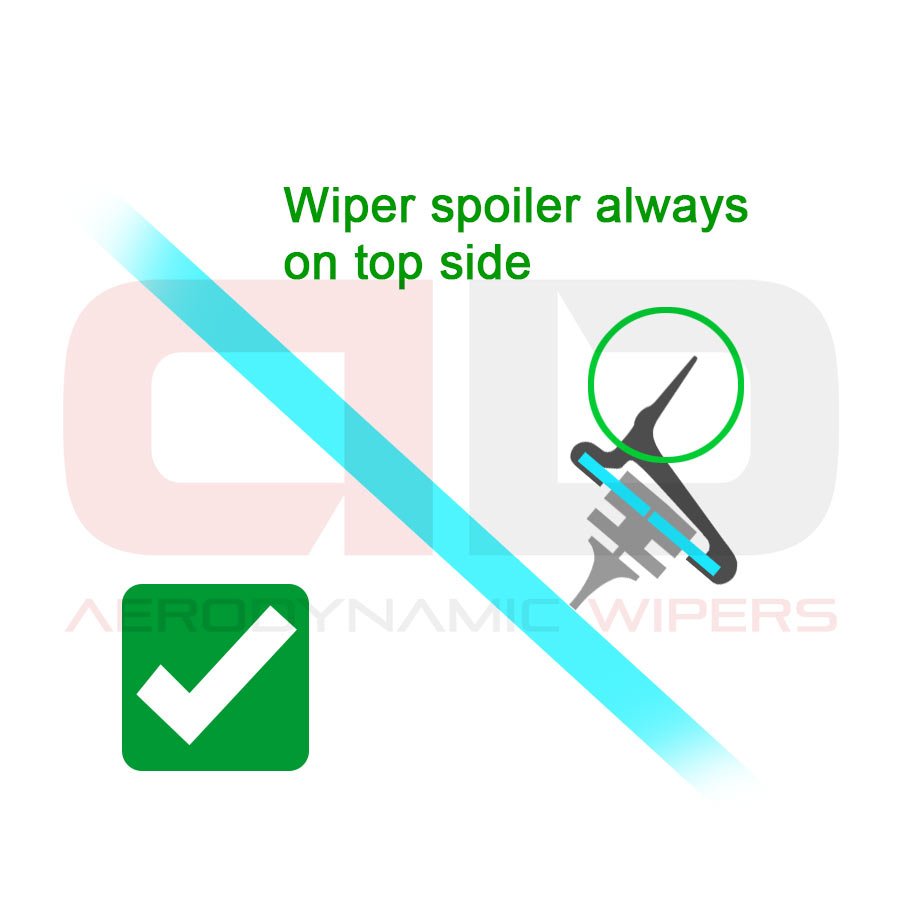 Why Aerodynamic Wiper Blades?
The Aerodynamic windscreen wipers always work efficiently and quietly. It is designed for all driving speeds, perform exceptionally well at high speeds.
Air passes through the aerodynamic spoiler of the wiper, which produces extra downforce on the blade without the aid of any add-on parts by catching more airflow. This prevents wipers from shaking and vibrating at high-speed driving.
The wipers wear down at a slower rate, reducing maintenance costs. They are also designed for dry weather use, such as for cleaning the windscreen.
How to select the right wiper sizes for your car?
The easiest and most reliable way to find out what sizes does your car required is to measure the length of the original wiper blade and get the right length. This is the most reliable way to select the proper length you need to purchase.

Buy Twin wipers pack instead of single wiper packs.
Use the car search form on the right sidebar to find recommended wiper sizes. Since car model information was third-party data, we do not guarantee its accuracy. It is a search tool for your reference only:
SKU:

HP-TWIN-2222
Category: Twin Pack Wiper Set
Tags: ad wipers, adwipers, adwipers wiper blades, aero wiper, german wiper tech, replacement wiper blade, replacement wipers, twin pack wiper blades, twin pack wipers, universal car wipers, universal vehicle wipers, universal wiper blades, universal wipers, windscreen wiper blades, windscreen wipers, wiper, wiper blade, wiper blades, wipers
Car Model Fast Search
Find Wiper Size For My Car
Cart